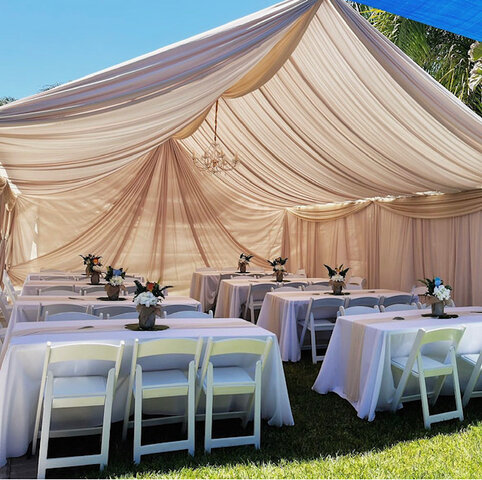 Setup Area: 22' L x 22' W x 16' H
Actual Size: 20' L x 20' W x 16' H
Description
20 x 20 Draped Tent
Introducing our 20 x 20 Draped Tent, the perfect solution for all your outdoor event needs in San Jose, CA. This elegant and versatile tent is designed to provide a stylish and functional space for any occasion. With its spacious 400 square feet, the 20 x 20 Draped Tent offers ample room to accommodate your guests comfortably. Whether you are hosting a wedding reception, corporate event, birthday party, or any other special gathering, this tent is sure to impress.The draped design of the tent adds a touch of sophistication and elegance to any setting. The flowing fabric creates a soft and inviting atmosphere, making it the ideal backdrop for memorable photos and creating an enchanting ambiance for your guests. Constructed with high-quality materials, our 20 x 20 Draped Tent is built to withstand various weather conditions, ensuring the comfort and safety of your guests. The sturdy frame provides stability, while the waterproof and UV-resistant fabric offers protection from the elements.Setting up the tent is a breeze, thanks to its user-friendly design. Our professional team will handle the installation process, ensuring a hassle-free experience for you. You can focus on enjoying your event while we take care of the details. We understand the importance of customization, which is why our 20 x 20 Draped Tent can be personalized to suit your specific needs. Whether you require additional lighting, flooring, or sidewalls, we offer a range of optional accessories to enhance your event setup. At Arise Event Rentals, we pride ourselves on delivering exceptional customer service. Our dedicated team is here to assist you every step of the way, from selecting the right tent size to providing ongoing support throughout your event. Don't let unpredictable weather spoil your outdoor event in San Jose, CA. Rent our 20 x 20 Draped Tent and create a memorable experience for your guests.
Includes:
20 x 20 Tent W/ Walls ( IF NEEDED)

Drapes (3) Colors of Customers Choice

Fully Draped Across W/ ONLY (1) Back End Draped.
Excludes:
Lights/ Chandeliers

Tables or Chairs

Decorations / Backdrops

(1) Back End Wall Draped (Additional $65, Call to Add on Order)